Our foam is used in the heating, ventilation and air conditioning of vehicles. DynaFoam offers various appropriate foams for this application, designed to suit your specific needs.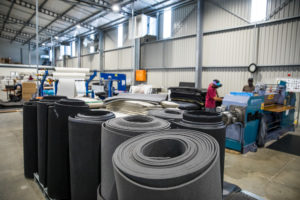 We provided appropriate foams for use in automotive door panels which have sound insulation and anti-rattle properties.
Our chipfoam is used for the foam backing of headliners in the automotive industry.
DynaFoam offers heat sealing and anti-rattle foam products using materials such as ethylene propylene diene monomer rubber (EPDM).
Our microfibre polyester felts die-cut and supplied with or without adhesive, as acoustic insulation for wheel arches and other noise reduction applications.
DynaFoam inputs precise specifications into our machinery to obtain acurate profile-cut foam used in various applications, including foam support in automotive seating.